Carroll County Arts strives to exhibit, educate and inspire creativity, imagination, and an appreciation for the arts. We have been a part of the community since 1993 with hundreds of people supporting the arts by volunteering andbecoming members. This support has made it possible for Carroll County Arts to present many wonderful exhibits and to build a collection of art by local artists into an extensive visual art gallery and gift shop. Carroll County Arts also provides an outlet for the creative spirit of our community through classes and workshops and concerts. Just as important as the exhibits and art classes is the impact our non-profit organization makes on the community through its education and outreach programs. Whether you are interested in taking a class, shopping the gallery, attending a concert or sharing YOUR talents, contact Carroll County Arts and we will help you find where you belong!


The Center is open Monday, Tuesday, Friday from 10:30 AM to 4:00 PM, Thursday from 1:00 PM to 6:00 PM (except for Third Thursday), Saturday from 11:00 AM to 2:00 PM (except for the third Saturday Kidz Klass), closed Wednesday

.
Admission is free and open to the public.
---
Thought you missed out on tickets for the fantastic fantasy evening, the Oil Barons Ball? The deadline for ticket purchase has been extended to April 6th. This is a fantastic fantasy evening with a delicious dinner,(choice of 3 entrees) and fine wines, beautiful music, a silent auction and a live auction. The featured band is One Hit Wonders, playing 60's, 70's, 80's and 90's music for dancing. All of this takes place at Atwood Lake , just outside Dellroy on Rt. 542.

Think about experiencing the lives of J.R. and Sue Ellen Ewing for this one night! Black-tie attire (including your best 10-gallon hat) are encouraged but not required. This is an opportunity to mix and mingle and make new business and social contacts.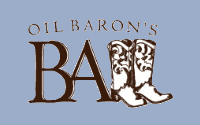 The Board of Trustees for Carroll County Arts cordially invites you to attend the 3rd annual Oil Barons Ball at Atwood Lake Resort on Saturday, April 11, 2015. Proceeds from the Ball will help Carroll County Arts keep the creative spirit alive in Carroll County.
You will be treated to a delicious, multi-course dinner with wine, prepared by several chefs. Dinner will be followed by a live auction then dancing to a fun, dynamic band guaranteed to get everyone on the dance floor. This is a festive atmosphere with black-tie attire encouraged, but not required.
The evening will also include a silent auction and a themed Art show, with art on display by local artists. Artwork will be available for sale and you will have the opportunity to vote for your favorite piece.
Enclosed is information regarding tickets and other opportunities for your participation. To further help the Arts Center, we invite you to be a patron, sponsor or auction donor.
Space is limited so get your tickets early. Deadline is March 25th, 2015.
Order tickets online at: https://www.eventbrite.com/e/oil-barons-ball-2015-tickets-15637123056 OR send check and form payable to Carroll County Arts to: Oil Baron's Ball c/o Carroll County Arts, 204 W. Main Street, Carrollton, Ohio 44615 or call the Art Center at 330-627-3739
Download an Oil Baron's Ball donation form here.

---


April 18. 2015
10:00 A.M.
Ages 8-12

LEARN TO PLAY THE DULCIMER
with Marty Jones
Register early - class limited to 8 children.
Call 330-627-3739
Fee $5 payable day of class and includes the use of Arts Center dulcimers.
---
An After-School Beginner's Drawing Class for ages 8 to 13 will be offered at the Carroll County Arts Center starting on Thursday, February 19th . There will be six one-hour classes on each Thursday until March 26th. The classes will begin each Thursday at 3:45 and run till 4:45.
The students will learn how to combine the basic elements of drawing based on the books "Drawing with Children" and "Drawing with Older Children and Teens".
The registration fee of $50 does not include materials needed. The list of materials include a 10 color broad tip kids marker set, a 12 color fine tip kids marker set, a 9x12 drawing or sketch book of at least 60 pound weight paper, a school supply box for easy access to markers. Mrs. Rimke will provide soft lead pencils, erasers and other materials for class use, along with larger sheets of drawing paper from time to time.

Instructor Lynda Rimke majored in studio art at Kent State University and exhibits her work at the Carroll County Arts Center. Her work can also be viewed at www.lyndarimke.com
Click here to download the registration form and materials list for this workshop.
---
Primitive Painting Workshop will be held March 14th at the Arts Center from 1 to 4 p.m. All supplies are provided and participatns will have 2 primitive signs to take home. The fee is $40 amd registration is requested by March 7th by calling 330-627-3739 to register.
---