Carroll County Arts strives to exhibit, educate and inspire creativity, imagination, and an appreciation for the arts. We have been a part of the community since 1993 with hundreds of people supporting the arts by volunteering and becoming members. This support has made it possible for Carroll County Arts to present many wonderful exhibits and to build a collection of art by local artists into an extensive visual art gallery and gift shop. Carroll County Arts also provides an outlet for the creative spirit of our community through classes and workshops and concerts. Just as important as the exhibits and art classes is the impact our non-profit organization makes on the community through its education and outreach programs. Whether you are interested in taking a class, shopping the gallery, attending a concert or sharing YOUR talents, Carroll County Arts has dozens of ways for you to share in the arts!
Here's What's Happening!
Christmas Boutique

CCA members receive a 10% discount the months of November and December. We have new pottery, and some beautiful new paintings. Always available is jewelry, ornaments, mittens, purses, scarves, prints--and gift certificates. The Center accepts Visa and MasterCard. If you are a member of Carroll Co-op, there is a 10% discount available all year long through the Co-op Connections.
---
The Carroll County Arts Center will be open additional hours on Saturday, November 30th from 10:00 AM until 5 PM. The CCA is giving away a Wayne Chunat print and a Suzi Nolt-John raku pottery vase. Either one can be yours by stopping in at the Arts Center and signing up for them. There is no charge for this. The drawing of the winners will be at 4:30 PM on November 30th at the Arts Center.
Browse the Gift Shop/Christmas Boutique and Gallery and take advantage of the mark-downs some artists are offering. Marty Chapman wood-turned items are 20% off; Suzi Nolt-John items are 10% off during November and December; Holly Carter's plaster ornaments made in antique molds are 25% off. Find that unique gift for friends and family. Can't make up your mind? Gift certificates are available anytime of the year. There will be refreshments available . Artists Peggy Baxter and Doris Logan will be painting in the afternoon after lunch. Peggy and Doris are members of the Monday Morning Art Class and will be demonstrating their expertise.
Stop in and support Small Business Day.
The Carroll County Chorale concert tickets are available at the Arts Center in Carrollton, Gordon's Graphics in Malvern and from any Chorale member for $6 if a CCA member, $8 if a non-member. Tickets will be available at the door also.
The Town Sound Chorus from Minerva will be the guest artists this year. This men's chorus has been organized over thirty years and perform at many area functions. Director of the group is Dave Speakman. The Chorale is performing a variety of holiday music and is directed by Molly Winters and accompanied by Nancymae Scheurer. Samuel Atkinson and Jay Stoneman will be performing a piano duet and John Rohr and Nancymae Scheurer will be performing an organ and piano duet. The women of the Chorale will be featured in "Coventry Carol".
The concert begins at 7:30 PM at the First Presbyterian Church, North Lisbon Street, Carrollton. Following the concert, refreshments will be served.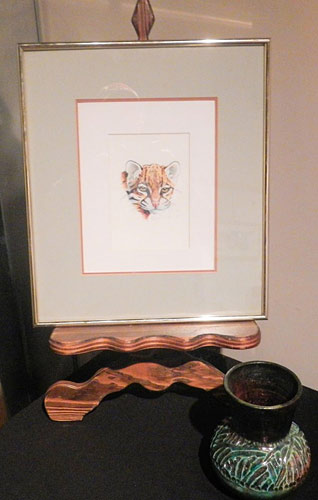 ---
The Arts is raffling off a free print by the famous local artist "Wayne Chunat". This free print could be yours by just stopping in and signing up. Suzi Nolt-John also donated one of her pottery pieces. She has a very good selection of pottery to choose from. The print and pottery piece will be raffled November 30th. We will have special hours that Saturday and stop in after the Christmas parade. The Arts have many Christmas items that you might enjoy for yourself or give as a gift.
---
The November Art for Everyone evening is scheduled for Thursday, November 21st at 6:30 PM at the Carroll County Arts Center. JoAnn Heestand of Minerva will instruct attendees on painting a Christmas ornament. All the supplies---paints, brushes and ornament--will be provided. Registration is requested so there will be enough supplies for everyone. There is a class limit of 10 to 12 people. Anyone can learn to do this---you don't have to be a "painter". Call 330-627-3739 .The $10 fee can be paid the evening of the workshop.
---
The Carroll County Chorale is performing their 17th annual Christmas concert on Friday, December 6th at 7:30 PM. The site is at the First Presbyterian Church on North Lisbon Street in Carrollton. The Town Sound, barbershop chorus from Minerva, directed by Dave Speakman, will be the guest performers as well as piano and organ duets, two-hand piano duets, soloists and a women's ensemble performing a variety of secular and religious music. Tickets are $6 for CCA members, $8 for non-members. They will be available at the Arts Center, Gordon's in Malvern and any Chorale member. Refreshments will be served following the concert in the Fellowship Hall of the church.
This is sponsored by Kelchner Oil Services.